Sweet Gwendolyn
---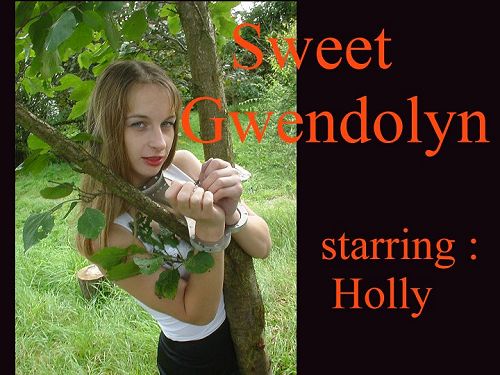 ---
In this video we have put our model Holly in a big variety of bondage situations . After she has made the presentation of the video she is restrained with the futuristic bilboes she has already experienced in the first video "Bondage fantasies". We have then a lot of outdoor scenes with Martin's Rigid Fiddles , some scenes with regular police handcuffs , the Clejuso Heavy Weight handcuffs ...
Then you see Holly as chained slave girl , heavily shackled with the fine equipment produced by Steel-Bondage . Her hands are cuffed behind her back , her tiny ankles are shackled and she has to wear a heavy iron collar . Nevertheless she succeeds in opening the door and sneaking away .

She is then tied up with ropes in a very strict hogtie and she is cuffed hand and feet to a wooden platform . Later we see her wearing a "Martin" collar and her hands are cuffed behind with Martin's Rigid Handcuffs .
Follows some more scenes with rope bondage ( mostly outdoors ) where she is subjected to a strappado and a ball-tie . At the end she is tied to a tree and to a post .
available as DVD

---
This video has a total playing time of 1 hour and 8 minutes
Price : 20 EURO
Price in other currencies dependent on the current exchange rate.
Please look here for the current exchange rate: http://finance.yahoo.com/m3


Payment by bank transfer or cash !

I will contact you for payment details
To order the DVD mail me or use the order form below
If you like to order more than one DVD
click here
Online order Form

Please send me :
| | | |
| --- | --- | --- |
| Sweet Gwendolyn (DVD ) | 20 EURO | |
available in PAL (European System)
and in NTSC (American System)
Please indicate your system options

---
Price includes shipping by regular mail


Where to send the DVD :

Please give me your your Email Adress :
---
You will receive a confirmation of your order within the next 24 hours .
If you don't receive a confirmation , please mail me !
---
---