EVE - Secured in Steel
(Released September 2003)
---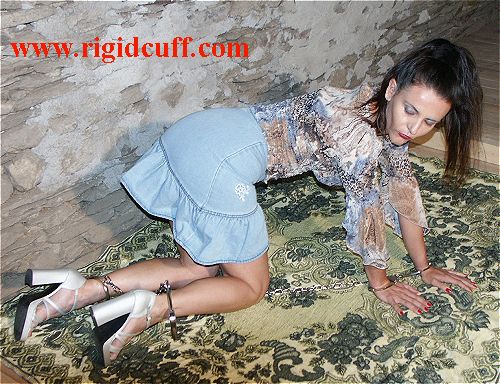 with our new model Eve from Germany


---

Screenshots from the video
Eve is restrained with various "Rigid Cuffs" manufactured by Martin and she experiences the Handcuff /Legirons Combination by Clejuso .
Then you see her as a chained slave girl wearing Heavy Weight Clejuso cuffs at wrists and ankles doing some domestic work . She is surprised by a guy from a Delivery Service who brings a parcel . She desperately tries to hide the fact that she is handcuffed and signs for the parcel She carries her laundry to the garden and begins polishing the cuffs and restraints.

After her work she is allowed to rest in the living room and drink a glass of wine still shackled and chained .
At the end she dreams of being a dangerous criminal in orange prison outfit , handcuffed and dragged away by the prison warden . Finally she is heavily shackled in a gloomy dungeon with the equipment produced by Steel-Bondage ( which you can order here )
---
This video has a total playing time of 1 hour and 2 minutes
Price : 20 EURO
( Postage by regular air mail included )





To order the DVD mail me
---
---
---